The overall purpose of this study is to identify how cultural values leading to emotional and social resiliency in Native American youth living in the Hopi/Tewa community intersect with emergent mobile health apps that seek to promote behavioral health.

We also want to understand how existing mobile health apps for behavioral health might fail to align with Hopi/Tewa cultural values or how they may not meet community behavioral health needs. This will inform future research efforts that seek to design more relevant and appropriate mobile health apps for behavioral health for Hopi/Tewa people. We want to engage community members living and working in the Hopi/Tewa community to understand what cultural practices and values are points of strength for behavioral health and we want to discuss with them how those practices and values might translate into a sociotechnical platform that can be used to support behavioral health in Hopi/Tewa youth.
We have the following research objectives:

Conduct three focus group interviews and six individual interviews over Zoom with Native American youth (ages 14-26) and community stakeholders (families, elders, community leaders) around the topic of mobile health platforms for behavioral health and well-being.
Perform a grounded theory analysis of focus group and interview data to identify the key challenges and opportunities for technology design in the context of developing culturally relevant.
Conduct a survey of existing mobile behavioral health apps using themes identified in Goal 2.


Our specific research questions are as follows:

How are behavioral mHealth apps perceived by Hopi youth and community stakeholders with respect to cultural relevance?
How do existing mHealth apps align with or deviate from Hopi values?


The NAU project team will first facilitate meetings with focus group participants and the Hopi Opportunity Youth Initiative (HOYI) project staff in order to build collaborative and sustainable partnerships.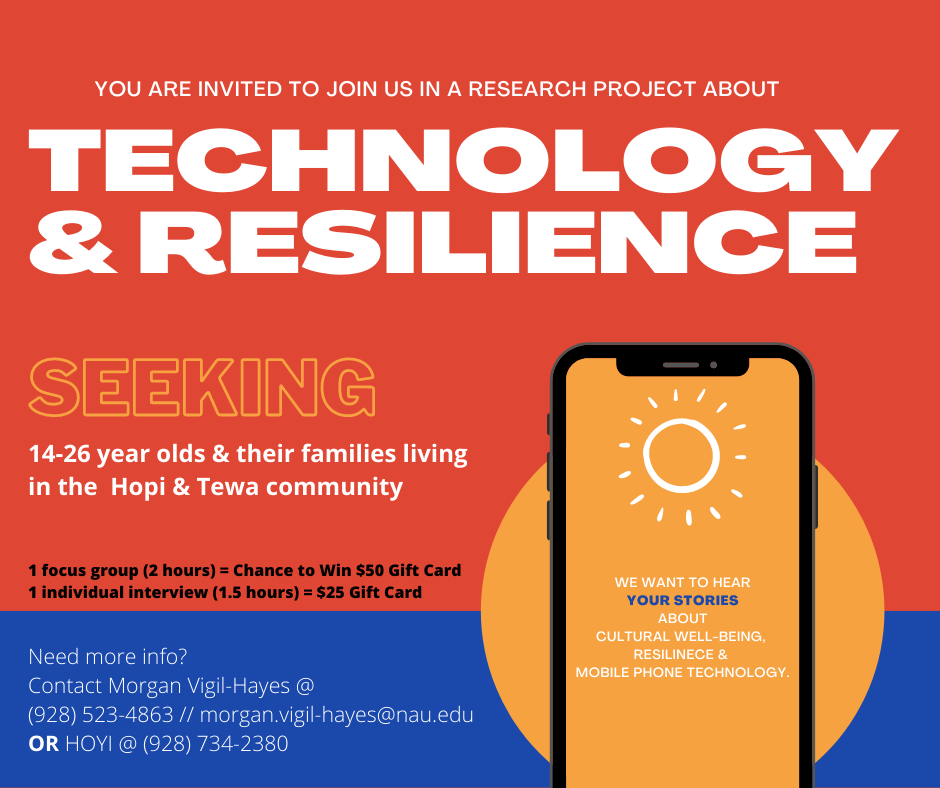 Interested in being a participant?
We are looking for youth ages 14-26 and their families living in the Hopi/Tewa community who are interested in sharing their stories of cultural well-being, resilience, and mobile phone technology. We are also interested in talking to educators, counselors, and health care providers who work with Hopi & Tewa youth.
Have questions? Contact Morgan Vigil-Hayes at
928-523-4863 // morgan.vigil-hayes@nau.edu